Bye, Bye Birdie
Nov 29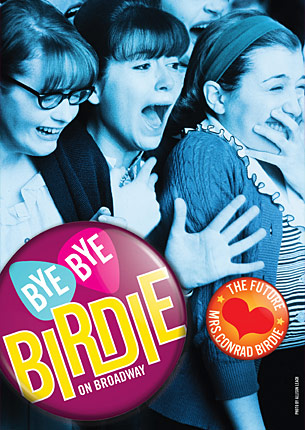 Let's talk turkey.
It's the Monday after Thanksgiving, and we have survived. We do feel fat, let down, and guilty that we ate so much and have done so little to get ready for Christmas, which is Coming Soon to a life near ours. So what should we do to cheer ourselves up? Maybe a fun Broadway play?
H'mm, there's Finian's Rainbow (weirdly wonderful) or The Royal Family (dysfunctional, sure, but in a good way). Or we could see a real turkey, the revival of Bye, Bye Birdie at the Arthur Miller Theatre.
Ouch.
Pat, you always write reviews about plays you like! What's happened? What has John Stamos ever done to you? Well, nothing, but maybe if he had . . .
Hey, there's a first time for everything, and this is my first negative play review.
Sorry, folks, but the show deserves it, and while I hate to be The Grinch Who Panned Birdie, you need to be warned. For starters, There is no — absolutely no — chemistry between the two main characters, Albert (Stamos) and Rose, his voluptuous, marriage minded secretary, played by Gina Gershon.
Separately they're knockouts, but in Bye Bye Birdie, they just don't look good together. Stamos is slight — good looking as all hell, but not big -— so with Gerson in big skirts and really big hair, it feels like one of those cartoons where one character is purposely drawn bigger than the other: Think Natasha and Boris in The Adventures of Rocky and Bullwinkle. . . .
I'm not even complaining about the story (I am an opera fan after all) but here it is:
Heartthrob singer Conrad Birdie (read: Elvis) is going into the army (Get it? Bye, Bye "Birdie?")and as a publicity stunt he will give a "last kiss" to a lucky teenage girl, played cutely enough by Alice Trimm, from a small town where everyone wears matching bright pastel colors. (I kind of liked that part.)
The veteran Jayne Houdyshell was suitably overbearing as Albert's ever-present mother, and at the performance we saw, the show was stolen by the ten-year old Neil McCaffrey. Well, it's hard to beat a cute kid on stage.
But Nolan Gerard Funk who played Elvis wasn't Elvis-ish enough, and Bill Irwin, who is such a brilliant mime, was so over the top in this role that he seemed to be in a different play.
Even all the good music (Put On a Happy Face, A Lot of Livin' To Do) didn't make me happy, because the play wasn't gellin' and the singing was only fair. Only an out of town audience could think this was Broadway. And the really depressing part was, the people around me did seem to like it. But they didn't love it, I'm guessing, because there wasn't a standing ovation, which is practically mandatory these days and is no longer reserved only for the most brilliant performances. Which this was not.
But how do I really feel?. Cheated. It was a special night out with friends, and the orchestra seats, although "discount," were close to a hundred bucks each. Harummph. We made the most of it: humming the songs and going to a friendly bar where we talked about better days and better plays. There will be more of both.
Hopefully, with John Stamos . . .
Agree? Disagree? Write a comment. You don't get this option with The New York Times!

For a completely different take on Bye, Bye Birdie, go to womanaroundtown, in the section Playing Around. While you're there, check out my other reviews.
More play reviews on this site: