About Me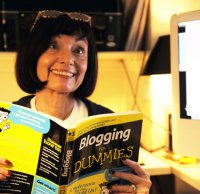 After doing her time as a free-lance writer and editor, Pat started her own company, Mega-Books, which produced Nancy Drew, The Hardy Boys, The Bobbsey Twins, and lots of other series.
Before Mega, Pat was a teacher in 3rd and 4th grades,  produced Lucky Day, a syndicated newspaper feature for children, edited The Electric Company Magazine for Children's Television Workshop, and created Muppet Magazine for Jim Henson. She wrote comics and puzzles for King Features and Western Publishing, and her books include The Official Kids' Survival Kit for Little Brown; When We Were Young: An Album of Stars for Prentice Hall and Big Digs for the John Deere company.
Her latest, I CAN'T BELIEVE I'M NOT BITTER The Book, is available on Amazon. See the subtle text on the left to "get your very own copy."
Pat is also President (and Founder) of the Institute for the Very, Very Silly.
After all that, she finally figured out what she wanted to be when she grew up . . . a humor columnist! No more teaching, no more books, no more client's dirty looks . . . just the chance to tell her stories, in her own slightly off-center way.
So she created the I CAN'T BELIEVE I'M NOT BITTER  blog. Thanks to everyone for helping to put that  together (You think it was easy?), and to Marc Nadel for his wonderful (as usual) caricature.
But then! Pat realized that many of the posts were for the over-50 crowd, of which she is now a long- standing member, and that there was a crying need for older people to have something to laugh about. And so, MY AGE IS UNLISTED was created.
For those of you who ask: What took you so long? Pat has no idea. Events overtook her? Life got in the way? She's still not bitter and wanted the world to know? All of the above? Probably.
But no matter! Here we are with a new blog, a new color (don't you love the gender-neutral periwinkle blue?) and a few newer older readers. Pat does so love an oxymoron every once in a while, don't you? Anyway, we're sure you will enjoy the new blog as much as you did the previous one.
BTW: You can still access the blog by going to patnyc.com, thus avoiding typing all those words, and giving you direct access to the latest post. Or browsing through the older ones.
And if you really want to know about Pat,  go to PAT'S FAVORITES. Please let her know what you found out: it could save her many hours of psychotherapy.