You Know You Love Gossip Girl
May 01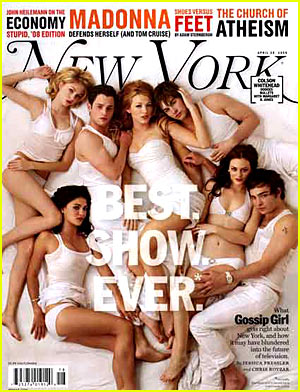 See you in September . . .
Or, on August 31, if you believe the press releases. That's when Gossip Girl returns after its summer vacation. But wait! There's one more episode this season, and you don't want to miss it —not if you expect to communicate with anyone under the age of Modern Maturity (or whatever that AARP publication is calling itself these days).
"Is it weird that I completely cherish Gossip Girl?"
NO! NO! Gotham Girl (my sometime pen name) did not say that! "Cherish" is a bit much, even for me. That quote is from a fan on one of the many on-line sites devoted (pun intended) to the series. Just Google the show, or any of the actors. (You do that to everything else anyway.) You'll find bios of the stars, synopses of the shows, predictions, goodies to buy, film clips to view, and, of course, gossip, gossip, gossip . . .
As for what the devoted fan said, it's not weird. I find her words quite poignant, really. I mean, she knows that she shouldn't be so wrapped up in a show that is so far from her own reality — unless, of course, her reality includes enormous helpings of wealth, health, beauty, sex, and great shoes. Not to mention servants.
Actually, a servant, Dorota to be exact, is one of my favorites actors. Not that I actually cherish her or anything, but this is a classic portrayal of the subservient servant, and next to the Wallace Shawn character, it's my favorite small role on the show. Of course, there are no small roles, only small salaries, as folks in show biz like to say.
I'm not alone about Dorota; apparently, she has many fans. Google "Chasing Dorota," for a film clip about her secret life. When the cat's away . . . Oh, you know. The real question here is: Has she fallen for the doorman, who, according to her girlfriends, "knows how to handle packages?" Ho boy. I can't believe I wrote that.
Whatever. Anyway, that not-so-weird-fan cannot be dismissed lightly. Certainly not by the media! At first, I was amazed that Gossip Girl was mentioned in every single issue (sometimes in several places in every single issue) of People, Us, We, and all the People/Us/We wannabes that I manage to get my newly manicured hands on at the nail salon, the only place besides the hairdressers where I look at these things. And look I do.
Then I noticed that the series and its stars were everywhere — Vogue, Vanity Fair, The Post, of course, the News and Newsday, too, but also New York Magazine (the cover!), The New York Times —many, many times. And not ironically. When Chuck Bass makes Time Magazine's Man of The Year, it'll be a moment to be . . . cherished. For some.
Let's face it: how can you not love this series a little. Even the titles of each episode are irresistible—"The Ex-Files,"" Woman on the Verge," "Hi, Society," "New Haven Can Wait," Gone with the Will," "Desperately Seeking Serena." "It's a Wonderful Lie," and the ever popular: "Oh Brother, Where Bart Thou?" The next episode, and the season's finale, will be "The Goodbye Gossip Girl."
"Valley Girl" (appropriate but not delicious) was last week's title, and may be the name of a spin-off based on the wild teenage years of Lily Bass, formerly known as Lillian van der Woodsen (Serena's mother), who has never really been tamed anyway. (That woman is not dead yet!)
Parts of the new series, which may be called "Lily" instead of Valley Girls, were woven in to last week's episode. (Gotham Girl was a little confused at first, but then, Gotham Girl reads the AARP thing). I do know for sure that a pilot was made in LA a few months ago because my brother went out there to shoot it, but no one knows if it will air or not, or what it will be called. Stay tuned.
They're all finished shooting scenes in New York for now, but Gotham Girl and a lucky friend got to see the prom scene being filmed in a great old building near City Hall a few weeks ago. We talked with the crew and spent most of our time trying not to trip on wires and cause some sort of electronic catastrophe. We got to meet Chace Crawford, that's Nate to you, and he was too cute (and nice) for words. We also watched B swish by in a down coat thrown over her prom dress, followed by lesser members of The Hive. Queen B gives them hives every chance she gets. Because she can.
When we left the prom, we went across the street and sat on the steps, on the very spot where Serena and Blair talked about life and stuff after the prom was over on last week's episode. We took a picture then went out for a drink. That's about as close as we'll ever get to being real life Gossip Girls — at least until next season when we'll return to the set, and tell you all about it. Meanwhile, set your DVR for Monday, 8PM, CW, and get the Gossip while you can. (If you miss it, you can catch it in the reruns.) All I know is that Gossip Girl herself sends a shocking e-mail blast during graduation in this episode, and Blair and Chuck . . . well, watch the show!
You know you love me,
XOXO
Gotham Girl
MAKE A COMMENT!
Admit it, you have watched Gossip Girl. At least once.
But what kind of a girl are you?
a) I only watch it to keep my daughter company.
b) I'm an addict and I don't care who knows it.
c) I DVR it and watch it instead of having a martini
d) I DVR it and have a martini.
e) Other: Please explain!