What WON'T I Blog About?
Apr 11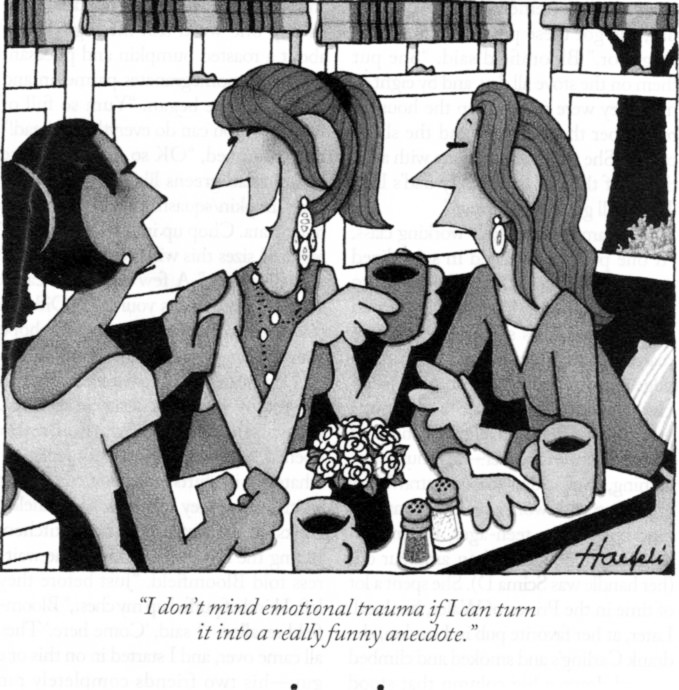 There is practically nothing I won't blog about, and yes, emotional traumas do make for funny anecdotes, whether they're mine — or yours.
You don't even have to blab: I can look in your eyes, your soul, or god forbid, your closet, and make a blog out of that (I Am A Closet Case).

I get ideas for blogs everywhere.
Walking up Third Avenue, eating at The Lyric Diner, drinking at Molly's Tavern, sitting on the 23rd Street Crosstown bus. These days, riding in a taxi provides more blog fodder than ever: they have TV screens where you can see Jimmy Fallon, endlessly, which is not only amusing but also may help you understand the concept of eternity, and useful little features on how to cut your bangs.
But I also get ideas for blogs when I'm just daydreaming or wasting time, if time can ever really truly be wasted.
Even looking in my date book adds to my list of Blogs To Do. Last Monday, I spent valuable time trying to decipher two notes to myself written in my agenda: "Frank" and "Go Burper," and "Voodoo Lou," scrawled on a cocktail napkin.
Many head-scratching minutes later, I figured out that Frank is the guy at Restoration Hardware (why the hell didn't I write that down) who's holding the white shower curtains for me. And Go should have been followed by Burger, the name of the restaurant where my book club was meeting. I have already written a blog about not being able to read my own notes (My Life On Post-Its), so yes, Virginia, time can be truly wasted.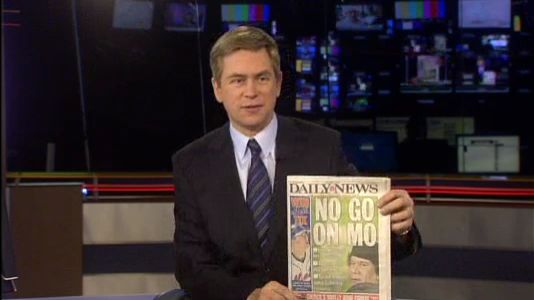 About Voodoo Lou: Has my husband turned to black magic, and if so, who could blame him? This turned out to be two separate issues: a reminder to email someone named Louis, not my husband — who, I guess, isn't going to be killing chickens any time soon, and a note to check into a story about voodoo that I saw on In The Papers: I think I'll call it Magic in Manhattan.
I Love In The Papers
It's a fab feature on New York One, where someone, usually the cute and adorable Pat Kiernan, shows you snippets from the city newspapers. Besides the serious stuff, there's always something funny or quirky . . .
Lately, they've been stories about the oldest living Geisha (at 84) who survived the earthquake in Japan, the candy jar in your office that's keeping you fat, "loosies," the guys who sell single cigarettes in Times Square, Charlie Sheen at "Radio City Music Hell," and The Sleepless Elite, the 1-3 % of the population who can survive on 6 hours or less a night. Not a member of that club.
Sometimes, when I write a blog I'm remembering something from the past I think you'd like to know about:
•My Night at the Pussy Cat Lounge
•Oh, You're Supposed to Toss Coins!
•Arrest That Woman!
But what, you may ask, WON'T I write about . . .
The two biggies are:
1) How to look young for your age (which people tell me I do).
2) How to live to a ripe old age (my parents are both pushing 100).
I feel that if I write about the first, I will instantly shrivel up and blow away, and the second, I'll get hit by a bus.
I also don't write about religion I don't find that funny, or politics, because that is already covered to perfection by Jon Stewart, Bill Maher, Steven Colbert and the first few minutes of Saturday Night Live.
And finally, I avoid bodily functions, just as I tend to skip any plays or movies with a name like Urinetown. In a related issue, scatology just isn't my thing. But if it's yours, you can go, so to speak, to Scat Fun for all sorts of delightful essays from around the world about something we all do, hopefully, regularly.
Keep The Posts Short
Nixing these subjects is no problem for me: the difficulty I face as a blogger is not finding topics, but keeping the length of the articles short. There's SO much to say, and attention spans are shrinking faster than the polar cap. A wise editor at the Times told me that I should keep the pieces to 800 words or less, the length of an editorial, and I've been trying to do that.
It's not easy. I'm already up to 704 words and I haven't told you about . . .
Oh, never mind, I'll save that for the next blog, the subject of which will be just about anything except Staying Young, Living Longer, The Religious Right (or Left, or Center), precious bodily fluids or solids for that matter, anything truly heartbreaking or natural disasters— except for The Jersey Shore and Pregnant in Heels, although there's nothing "natural" about either of these two.
Anything you'd like me to write about? Leave a comment.
Cartoon from The New Yorker