Wait A Minute!
Feb 06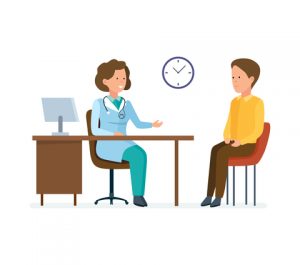 Wait a . . . MINUTE?
How about ten or twenty — or maybe an hour or more.
I've had three doctors' appointments in the last week. Take a wild guess about how many were running late:
One? Two? Three?
How about every medical appointment in the history of the world? Bing-o.
It's bad enough having to see so many doctors, a situation that only gets worse as you get (you should pardon the expression) older. You don't like being at their offices in the first place, and then you have to wait. And wait. And wait. It's not for nothing that they are called waiting rooms
Is there anything we can do about this? Probably not. The medical profession holds all the cards: they literally have your life in their hands
But what if …
. . . We showed up the exact amount of minutes late that we waited the last time and demanded that the doctor see us immediately. Nah. Wouldn't work. Forget I mentioned it.
. . . We charged for our time? Who am I kidding.They'd never pay.
. . . We marched into the inner office whether he/she was ready or not. I am getting punchy here and need help.
Ideas, people? Anything?
BTW Have you ever been late to a doctor's appointment? Ho boy. They do not like that one little bit. And let you know in no uncertain terms.
This street only goes one way —
And it ain't going yours.
Okay, emergencies happen and it's a good thing there are doctors to handle them. But every single time you happen to have an appointment?
The reason the doctor or the staff always gives, if they deign to acknowledge you've been waiting a half century out there, is that the doctor gives a lot of attention and time to each and every patient. That's nice. But if they know this beforehand, why not allot extra time in the first place? Now I'm being too logical. Silly me.
Lawyers, who god knows piss you off in other ways, don't usually keep you waiting. Accountants either. Maybe because they charge by the hour, and the more clients they see, the more they can bill. And bill they will. Dentists are also pretty punctual, although waiting for even a few minutes freaks me out because of the sound of the drill. And drill they will.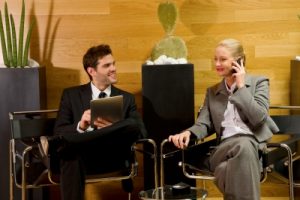 Having a cell phone or any techie device helps while away the time while waiting in the dreaded waiting room, and you might even meet a new friend or two there . . .

I know a woman, and this is a true story ladies and gentlemen, who started dating  a guy she met while they were both waiting to get their respective colonoscopies. It didn't work out, the relationship, not the procedures, but I can't imagine why considering the romantic nature of their first encounter.

But personally, I get nervous— or more nervous— the more time that elapses. Once, and you won't believe this (or maybe you will) I was kept waiting for 4 hours for "emergency" gall bladder surgery! Honest.
When I finally got to the operating room, someone asked me how I was feeling. I asked if that was a trick question. No one answered.
Oh well, I survived that surgery, and others. And when we finally get to see our doctors, they usually are good. Not infallible, but good. They don't believe in blood letting or leeches any more, or that every female complaint is "hysterical." Our medical treatment, if not our health care system (Don't get me started on that!) is better than ever.
Worth waiting for? Like we have a choice.
Will it ever change? Don't hold your breathe.
It won't do any good, and besides, it's bad for your health.
And don't forget, there's also:  Medical Whack-A Mole
Photo courtesy of Ambro at FreeDigitalPhotos.net