Urgent! Read My Blog!
Aug 29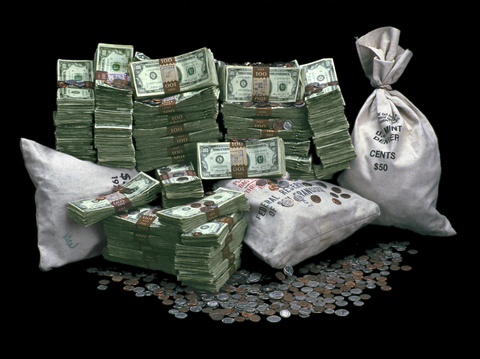 And if possible, send money.
You think it's easy being a blogger?
Even when people love your posts, they almost never send money.
There's just so damn much competition out there. And some of it is good!
Besides the other 50 million blogs, and all the funny e-mails, there are those wonderful letters where someone offers you $1.5 million if you will only pay the taxes, the lawyer's fee, and his ticket to Tahiti, plus give him all your personal information, including your blood type and your social security number.
Wikipedia has a name for all this: the advance-fee scam, AKA: THE NIGERIAN LETTER.
Here's an excerpt from one of these letters that I received from a real prince of a guy:
It starts this way:
URGANT REPLY TO MY SECRETARY. . .
And then continues, in all its ungrammatical glory:
"Dear friend,
I am very happy to inform you about my success in getting that fund transferred, under the cooperation of a new partner from Paraguay, Now I want you to contact my secretary ask him for($1.5m US DOLARS) which I kept for you as a compensation, feel free to contact he."
It gives an e-mail address and phone number, which I'll gladly provide to anyone who wants it, for the discount price of only 1.2 million, and then you too can contact "he."
He, AKA "The Prince," wants you to provide him with all kinds of personal information, and warns:
If you did not send him the "above information complete," he will not release the cheque to you because he has to be sure that it is you, adding:
"Note: also that I will not be reached by email or phone at this moment because I am currently in Paraguay for investment trip with my own share.
Regards,
Mr. Johnson mayor"
Okay, Mr. Johnson. Mr. mayor with a lower case "m"? Mr. Johnson-mayor? Your Highness?
Maybe I'm just getting forgetful, but WHAT FUND? WHAT TRANSFER? AND WHO THE HELL ARE YOU?
For straight-out chutzpah and heartwarming friendliness, I prefer the email from these people:
BARRISTER ADEBOYA WILLIAMS & CO CHAMBERS
LEGAL PRACTITIONERS & SOLICITOR, CO-OPERATE CONSULTANT
Because even though it has that whole official title going, it addresses me like this:
"Hello, Dear,
How are you today, coupled with your health? Hope all is well with you. I pray that this email reaches you in the best of health, I present my best wishes to you and your family with blessings, goodness and mercies"
Then it puts any fears I might have completely to rest:
"Do not worry on how I got your email address got it from an email marketing firm on the internet."
Oh good! I thought this might be a scam or something. Coupled with my health.
And now, it gets to the point:
"In a brief introduction am Barrister Adebayo Williams (Esq.) The personal attorney to late Engineer Steve, an American from Ogden, Uttah,(Utah) USA who worked with shell Development company in Nigeria. On April 21,2004,my client, his wife, and their three Children were involved in a car accident along Shagamu expressway. All Occupants of the vehicle unfortunately lost their lives.
Since I have been unsuccessful in locating the relatives for over Two years now, hence I seek your consent to present you as the next of kin of the deceased so that the proceeds of this account valued at $10.5Million US Dollars) can be paid to you."
Wow, how did I get so lucky? And it gets better:
"And then you and I in sharing the ratio, I suggest should be as follows: 60% for me and 40% to you. As an attorney I will revalidate and notarize all the necessary legal documents that will be used to back you up in thisclaim. All I require is your honesty and maximum co-operations to enable us see this deal through."
I'm honest, I promise! Who wouldn't pretend to be next of kin for that kind of money? It's what we call "a little white lie," which is NOT intended as any kind of racial slur, I assure you. And hey, 60/40 is more than fair!
"I guarantee that this will be executed under a legitimate arrangement
that will protect you from any breach of the law. As soon as you receive the fund I will be coming over to your country for the due share as I stated above. Provide the below information to enable me file in an application of claim."
Not so fast, Barrister Bill!
The thing is, I happen to have known Engineer Steve, and he only had 2 Children, not 3. Gotcha! And you really had me going for a while there.
If you don't reply to these letters, they keep upping the ante . . .
The latest urgent offer to make me rich is from:
Mr. Abdoul Kader,The Director gerneral of Group Banking of African BOA
Ouagadouguo Burkina-Faso West Africa
Again, I'd be happy to supply the e-mail address, for a price. This guy is so honest he wants ME to come up with the percentage of the $17.3 million in question, and asks "sincerely" if he can trust me to keep this all confidential.
Sorry, Abdoul, but this was too good not to share with my readers. But hey, maybe one of them will take you up on your offer. Although it sounds too good to be true, you did spell URGENT correctly . . .
Okay, readers, can you tell us about any of these letters you get?
They really are . . . priceless.