Top 10 List of Why You Should Pack Light
Aug 02
So I'm back from my trip, filled with memories, some new friends, a few extra pounds, and the following advice for your next trip. Although, as I'm well aware, unless you're very wise, secure, and have not an ounce of vanity, you will not heed this. Anyway, here goes:
The Top Ten List of Why To Pack Light
#10 When you get to wherever you're going, you have to unpack all that stuff and find places to put all of it, which you'll forget by the next morning and be in a panic.

#9 There are never enough hangers, housekeeping will not bring them soon enough, and if you pack light  you can bring a few of your own for  your "good outfits," which, with a little tissue paper, will be wrinkle free so you'll look your best in the group photos. (See  above.)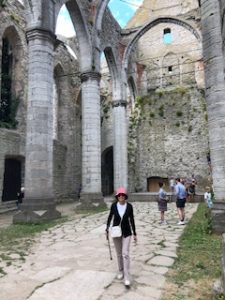 #8 Packing a lot means a heavy suitcase, and no matter what, you'll have to lug it at some point. (As noted in a previous post, there's a reason it's called LUGgage. And the term "comes with a lot of baggage" can be taken literally.)
#7 You could strain your back trying to lift it all and ruin everything! You'll be doing a lot of walking and can't be hobbled by an injury.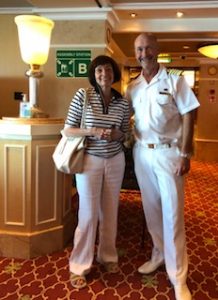 #6 Support the local economy! You can get a lot of stuff you don't pack when you get to wherever the hell you're going. I got this shirt on the ship and impressed the Captain. (In my dreams.)
#5 Sophisticated travelers pack light. You want to impress the baggage handlers, don't you? You couldn't care less. Move on.
#4 Remind yourself of George Carlin's riff on "stuff." https://www.youtube.com/watch?v=MvgN5gCuLac.      Do you really need ALL of it? If so, consider a staycation.

#3 When you're ready to go home, you'll have to repack all that stuff (what really hurts are the things you never needed or used), which takes time away from the purpose of your trip, to have a good time
#2 They're charging for extra luggage these days!  A lot! Isn't this trip costing enough?
And now . . .

The #1 reason for packing light: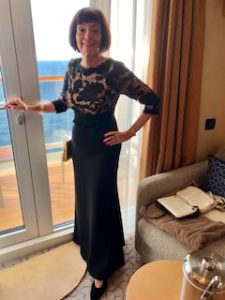 (Drumroll here)
If, god forfend, they lose your luggage and you never get it back (Gasp!), all your best clothes will be gone forever! You will never be reunited with with that perfect black dress you are so proud to have found (on sale!)  that actually fits, requires no special undergarments, and packs easily. A upscale version of Kinsey Milhone's All Purpose Black Dress, if you're familiar with the Sue Grafton (A is for Alibi) series, its loss would be too horrible to contemplate.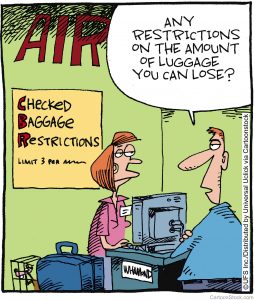 I just saw reportage of a jet plane crash where by some miracle all the passengers escaped with their lives, but not (and I can't believe I am so superficial to even have thought about this). . . their luggage! Their clothes, their gadgets, their . . . stuff! All gone. Oh, the humanity.
Now, if I could only learn to take my own advice (fat chance), I just might take another trip. Maybe to a nudist colony.