Today I Apologized To A Plant
Dec 20
Living alone has it benefits: you can eat when you want, sleep when you want, basically do whatever you want whenever you want to do it.
And you can plug in that cute little ceramic tree, made by your mother's own little hands, instead of putting up an actual tree with all that hassle and expense, because there's no one to tell you not to.
But there are drawbacks, too, like not having someone to talk to when you need it. Have you noticed that people who live alone do one of two things? They don't talk much in company (as if they're out of practice) or they talk too much (as if they're making up for lost time).
INSANITY OR SENSIBLE?
It's said that when you start talking to yourself—especially when you answer back—that it's a sign of madness. I say it's a reasonable response (so to speak) of having no one handy at that particular moment to express your thoughts. You're worried about something, so you ask yourself, "What should I do?" Then you posit possible (or impossible) solutions. I, personally, love positing the impossible. Don't you?
THIS MORNING I TOOK IT A STEP FURTHER.
I apologized to a poinsettia.
I had inadvertently broke off a branch while watering it (Him? I do not actually know its gender and it could be a female, I guess, or even transgender (transplanter?) because you never know these days.  Do poinsettias even have a sex. Sex? Somebody around here should, but I do digress. And while I'm at it, is advertently or vertently a word? I'll get back to you on that.
Meanwhile, today, I found myself saying "sorry" to this plant. Out loud. It just slipped out. But then, don't our most honest emotions do just that: slip out when we're tired, or tipsy, or—alone? Hey, it's the holidays and we're all a little crazed anyway.
It just occurred to me as I was writing this (one of the joys of writing) that doing a blog is actually a kind of talking to yourself. It's true! I don't know what I'm going to say until I say it, rather like a spontaneous conversation in the real world outside the Blogosphere and social media. And yes, Virginia, there IS a world out there, free from Facebook, Twitter, MSNBC and Fox News, although not, alas, from our cell phones.  (See: CHEERLESS )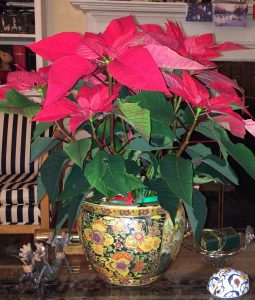 HMMMM. POINTSETTIAS VS. PEOPLE?

Sometimes it's a close call. With plants, the "conversation" is only in your head and doesn't lead anywhere. On the plus side, they don't talk back, contradict, or say anything mean. They won't gossip about you, or tell your secrets. They won't betray you. They won't sleep with your spouse.

But best of all, and something to be truly grateful this holiday season, they don't have cell phones.
BTW, advertently IS a word, vertently isn't, although one Scrabble site says it is.
Try explaining that to your poinsettia.
MEANWHILE, IT'S TIME TO TAKE THIS TO YET ANOTHER LEVEL.

Tomorrow I'm going to wish ALL the poinsettias in my apartment—and of course, my little tree —a very Merry Christmas! (Trump says it is okay to say that again, and who am I to disagree with Our Dear Leader?) But wait! I have no more idea of their religious affiliations than I do of their sexual preferences, so probably I should just leave it at this:

H A P PP Y   H O L I D A Y S ! ! !
And that goes for you too, Bitter fans.
Enjoy the season, talk to whomever or whatever you desire, and see you after New Year's.