The Wedding Bell Blahs
May 03
Cindy Adams is such a bitch.
But she really nailed it on the royal wedding in general, and the bride's gown in particular.
She gave the whole thing the royal yawn in her column in The New York Post, and wondered what all the fuss was about.
Yes, yes the gown was very nice. It was appropriate, in good taste, and pretty. Come to think of it, the bride is also appropriate, in good taste and pretty. How veddy, veddy nice.
Various articles in The New York Times, seldom as nasty as the Post, pointed to the gown's "modesty and simplicity," and noted how it "blends eras flawlessly." It was, one article added, "calculated to project an image, classic but not stuffy." Yeah, yeah, it was.
But what the dress wasn't was spectacular. It didn't have that special something that distinguishes the very nice from the breathtaking.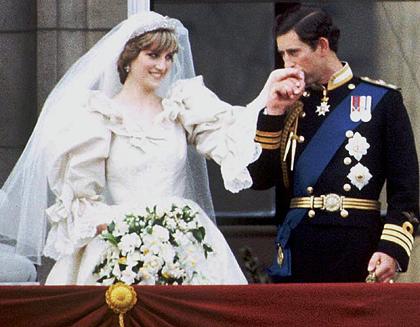 An Anti-Diana Statement?
Could be. Remember the puffy sleeves on that number? Well, that was during the Shoulder Pad Era, if I remember correctly, and today it simply wouldn't do.The Times pointed out that Diana's gown was a "childhood cliche," so I guess they do get a little nasty over there once in while. Anyway, we all know how great that marriage turned out.
Still.
Wasn't This A Fairy Tale Wedding?
Don't you wish, given the amount of time and money available to Kate Middleton, that the gown had been a teeny little bit flashier, or at least, more . . . magical? We humble commoners never get to look like Cinderella, the Disney version, but shouldn't a real live princess get to do that at least once?
To that end, the veil could been more dramatic. And the bouquet bigger. Ditto the hair.
On the other hand, the whole thing could have been worse.
Much worse.
The new princess could have worn something guaranteed to get the royal knickers in a knot or two.
Like this creation made out of toilet paper. Really.

Or even more inappropriate bridal attire. . .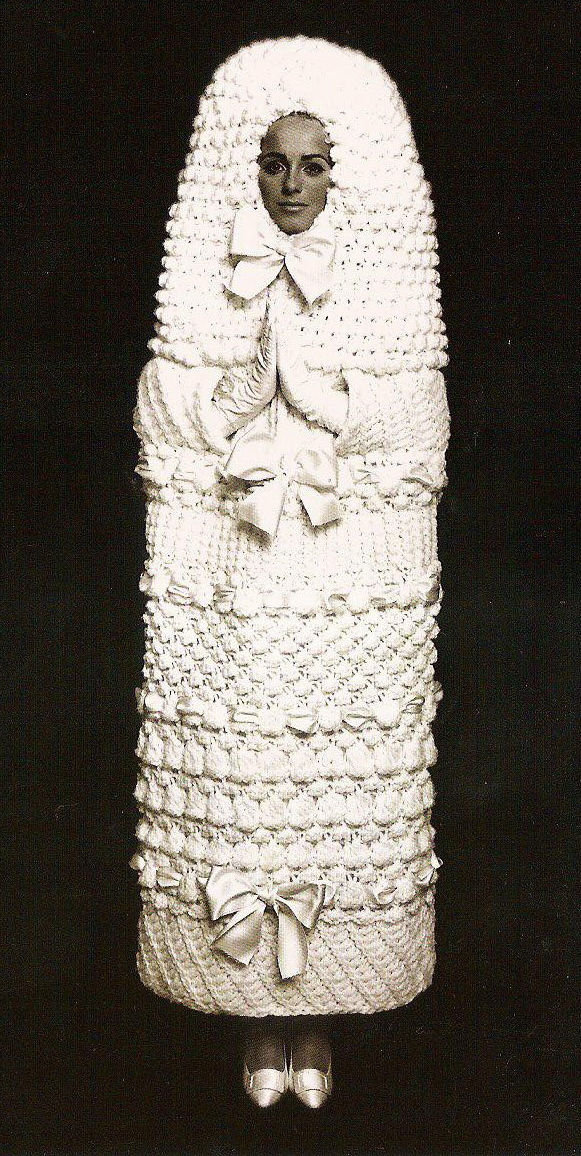 Like this knitted monstrosity on the right. Well, you have to admit, it is modest.
The veil could have been a bit too much.
It could have been topless or just plain tasteless! (Yes, Virginia, there are topless wedding dresses, although modesty or fear of reprisal does not permit us to picture one here). It could have been designed by the cast of The Jersey Shore, as these "gowns" appear to have been.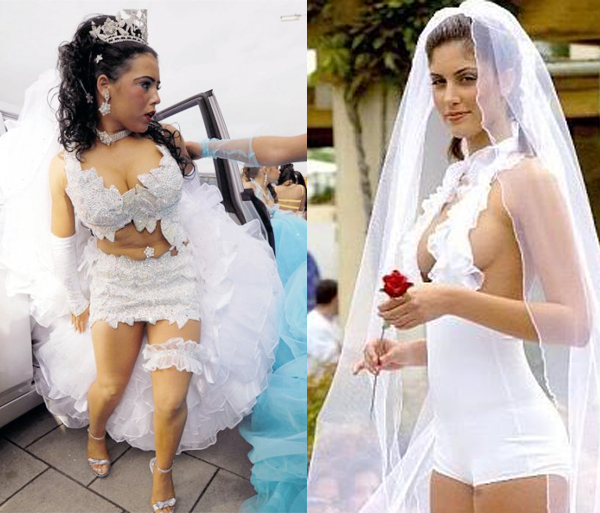 Yes, friends, it could have so much worse. Although you have to give the woman on the left some credit for the tiara. I said "some."
So, Cindy, Ms. Adams, your Royal Gossipness, even though you're right again, let's give a bit of a cheer for the plucky new royal.
True, her dress will NOT sink a thousand ships, or even tip over a couple of loose rowboats in the Royal British Navy, but it didn't, thank god, upset the Queen.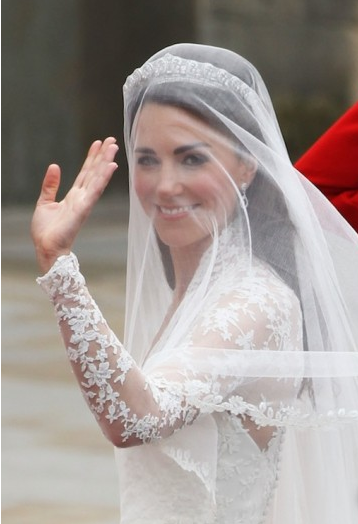 Besides, Carson Kressley (of Queer Eye For The Straight Guy) gushed about it on Oprah, and who knows better than Carson?
Well, maybe Cindy. (And me.)
Cheerio, for now, dear reader.
And do tell me what you thought about the gown, the gal, the royals, and all that rot.