The War on Men
Jan 17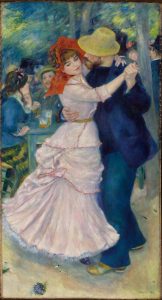 What can these dancers tell us about sexual harassment?
Read on.

When I was young and cute and a photographer's rep in New York City, I was propositioned so often it was like regular bowel movements. Seriously.
One prince of a fellow told me, in  these words, that if I didn't put out, I wouldn't get the job. I didn't get the job. Luckily, he was one of many art directors at a major ad agency (think Mad Men), so there were other less committed ways to get work.
Another guy got a glazed look on his face while I was making my pitch, came out from behind his desk, and swooped me up in a Hollywood kiss. I was speechless, literally, and ran out as fast as I could. However, I must admit that while it was inappropriate as hell, and I avoided him like the plague from then on, it was . . . exciting.
When I went into publishing I was hit on many times, notably in taxis. Once by an editor who was gay. I asked him if he had lost his mind. Another was chairman of the board of a major publisher, who made the moves on me in yet another cab, and on my  business partner in a hotel lobby before a meeting. We decided that we had to give the guy points for one thing: he didn't ask for a threesome.
For me to say, "Me Too" is an understatement.
You want to talk about unequal pay for equal work! I once found out that the guy who had the editor's job before I did was making exactly twice my salary. Twice! So I screwed up my courage and marched in and asked for a raise. Well, I got a little more, but not nearly what That Guy was making, even though it was agreed that I was doing a better job than he ever did. But, hey, sweetie, he's . . . a man.
Sigh. In time, things got somewhat better in the equal pay department, but just to be sure I started my own company. Running your own business is not for the faint of heart and sometimes you don't get paid at all, but at least it's not sexist.
So. I must be squarely in the Me, Too movement, right?  Well, yes, more or less.

I agree totally that true sexual harassment shouldn't be tolerated. Of course, women should be in positions of power and be respected and fairly compensated for their work. I believe that "no" means "no." Except, just maybe, sometimes, in certain cases . . .when it doesn't.
Sorry about that, uber feminists, and maybe it's a generational thing, but a little coyness used to be a lot of fun. I don't mean being forced into anything — but being coaxed into it was, well, part of the dance, so to speak.

Personally, I have been pushed into a number of corners, literally, but never let it go any further. Unless I wanted it to. It would have been horrible to be seriously mauled— or raped! But that's my point: actual sexual assault shouldn't be lumped in with minor incidents of sexual harassment.
Here's a fun litmus test:
In my class on Impressionism at the New School we discussed the above painting by Renoir. We agreed it was a lovely example of his work, until someone suggested that the young woman was being harassed by the young man. A discussion of "no means no" ensued until I couldn't stand it any longer and spoke up.
My impression (sorry about that) was that the male dance partner was not doing anything untoward, just being very forward, and that  the young woman was enjoying the attention, although not outwardly encouraging it. I find him very masculine and sexy and her very demure and lovely.
What's wrong with this picture?
Nothing, in my opinion. But others disagreed. And interestingly, when I showed it (in a totally unscientific study, to be sure) the women thought it was fine, the men thought it wasn't. Hmmmm.
Sure, the guy in the painting had more than dancing on his mind. And what's wrong with that? I hope to god she would say no, if she wanted to, and that he would back off. Or say yes, and they would get it on.
Which brings me back to the Me,Too movement,  The pendulum always swings wildly on all social issues and hopefully it will come to center, where women aren't victimized — and men aren't all vilified.
I think we need to get a grip,  and see that there's a difference between a wink and a nod and an actual sexual assault. Let's not go back to the Bad Old Days, but let's not trivialize rape by making such a big deal about every leer and inappropriate remark or sophomoric attempt at humor (R.I.P. Al Franken). I don't agree that a zero tolerance approach works here.
My physical therapist, who is one of the most gentlemanly men I know, says he doesn't know how to approach women any more.  My brother, probably the least lecherous man in the film industry, is afraid to tell the assistant director she looks nice today. A group of women in France – in France! — is protesting the Me Too Movement for going too far (Bonjour, Amour) and taking a lot of flak for it. Some are calling this movement, The War on Men.

Got an opinion on all this?
Is this the end of flirting as we knew it? Must we sign a notarized statement before that first embrace? Is all this correctness making Jack (and Jill) a dull boy (and girl)?
Let us know!
FYI: The Dance at Bougival, painted by Pierre-August Renoir in 1883, can be seen at The Museum of Fine Arts in Boston.