THE SCOPE WARS
Oct 21
There's clutter, and then there's clutter.
The clutter in my bathroom — which involves lots of perfume bottles, a green and pink striped cosmetic case, a purple sachet, little bottles of shampoos from hotels of all nations, a porcelain clock, a leopard print soap dish with a matching candle stick, and a small collection of rubber duckies all in a row — is cute.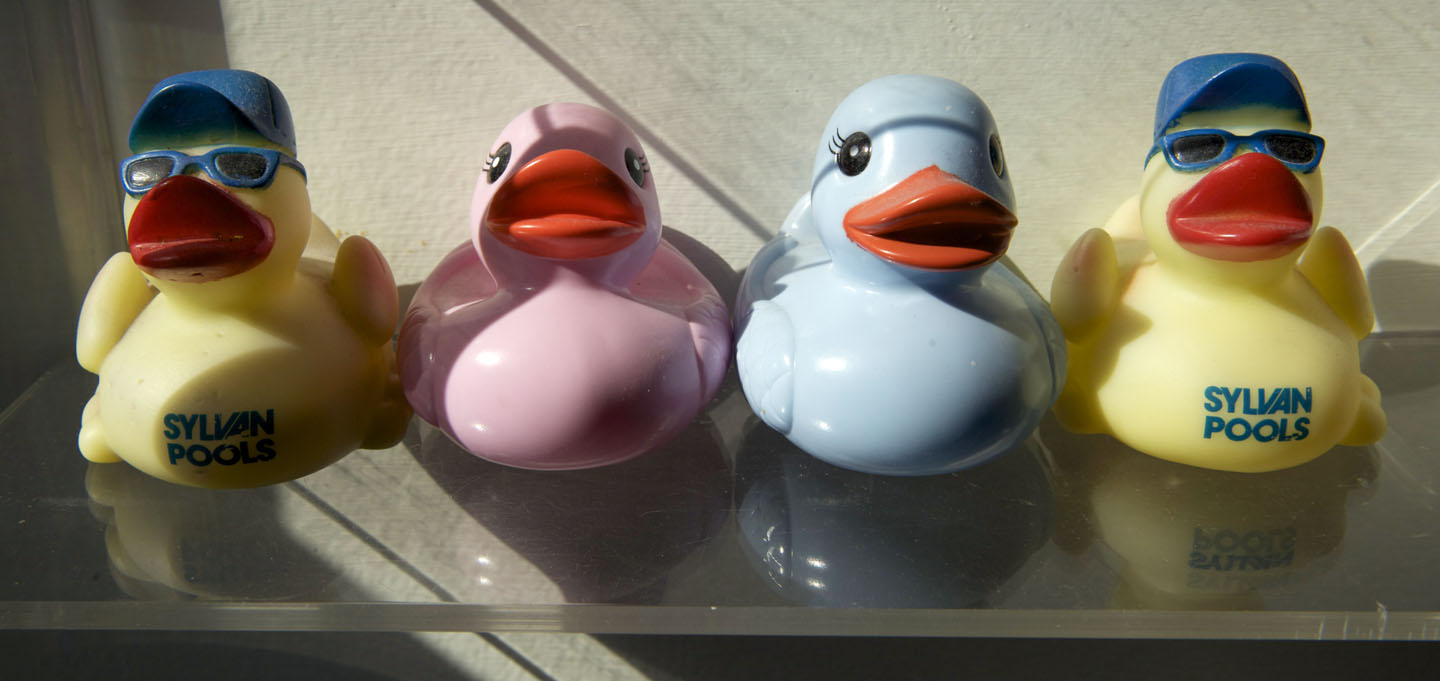 The clutter in my husband's bathroom — which involves a Giant Economy Size bottle of Scope — is not.
He just doesn't get it.
When we shared a bathroom, it was known as The Scope Wars. He'd leave the bottle out. I'd put it away. He'd leave the bottle out. I'd put it away. I could win the battle, but never the war.
Nowadays, we have two bathrooms and a happier relationship. (Until he reads this blog.) Let's face it, it's a plus if a couple can survive The Scope Wars at all. But we have a few other issues cluttering our lives.
Take the mess on top of and surrounding his nightstand. Please. It includes, but is not limited to, all the books he has ever read and all the coins he has ever taken out of his pocket (I am exaggerating). Plus: an orthopedic stretchy kind of thing for his knee, an opened box of cookies, wires for the cell phone charger, bookends for all those books, napkins, gently used, assorted newspaper clippings he will never read, and a small stuffed moose (I am not exaggerating). . .
He maintains that he needs all this stuff —
And points to the fact (true) that I'm always asking for cookies when I'm reading in bed at night, and that I frequently forget to charge my phone (also true), possibly because I keep the charger out of sight.
It's unsightly, that's why. The stuff on my nightstand, on the other hand, is sightly. In fact, it's staged. A book, a pretty box of tissues, the little enameled box for my rings. I wish I didn't have to keep the phone on my side, which is somewhere between sightly and unsightly — more or less innocuous — but that's where the connection is.
And since I also need a clock, I searched for the smallest one possible with big numerals, a sleek number that I found at Brookstone down at the South Street Seaport. I agonized over which to buy: that one or the slightly larger version that included a radio, but decided that smaller was better. (I do miss the radio from time to time.)
My husband, on the other hand, charged right into the CVS down the street and got a design-challenged model with the biggest numerals known to man that he loves because he can see the time in the middle of the night.
The Ladies Room
Fortunately, his nightstand, being on his side of the bed, can't be seen from the doorway, so visitors are usually spared this unsightly sight, and my bathroom is the one guests use, so they are spared the mouthwash and old toothbrushes. I do sometimes wonder if my bathroom is a bit too feminine for some male visitors. Tough. If they don't like it, let them drink Scope.
I hope that the ladies (and the gents) like the calculated clutter in my salle de bain, especially those adorable ducks. Whatever you want to say about me, I do have them in a row. That's got to count for something.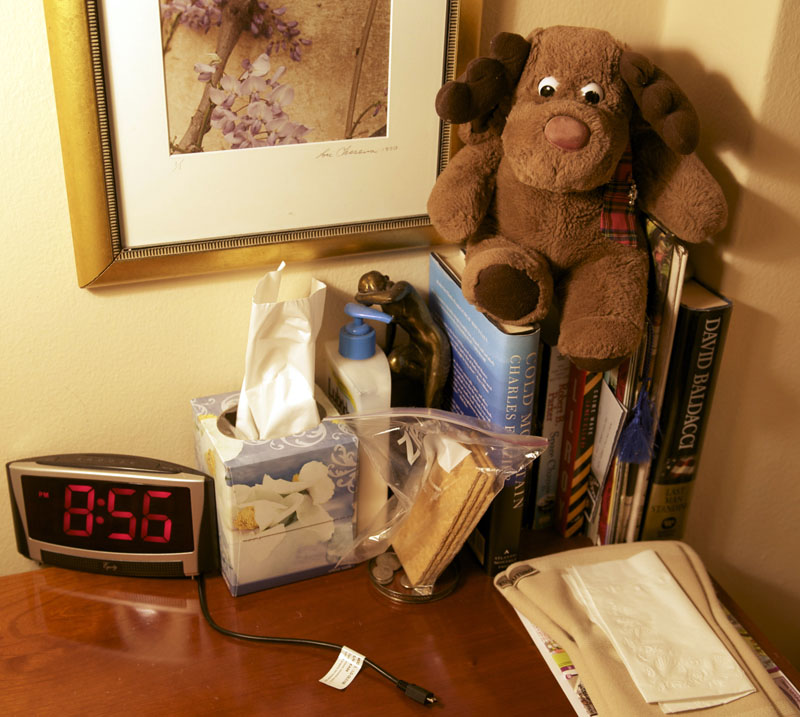 And by the way, I have a lot of clutter (unsightly) on my desk (there are socks on it at the moment), but that doesn't count.
And the moose is named Fleischman, for the doctor on Northern Exposure, and I am responsible for putting him where he currently resides. I love the little guy. But not on my nightstand.
Photos: Ducks In A Row and The Moose Who Loved Me by Lou Chisena 2009