The Academy Awards Were . . . Nice
Mar 04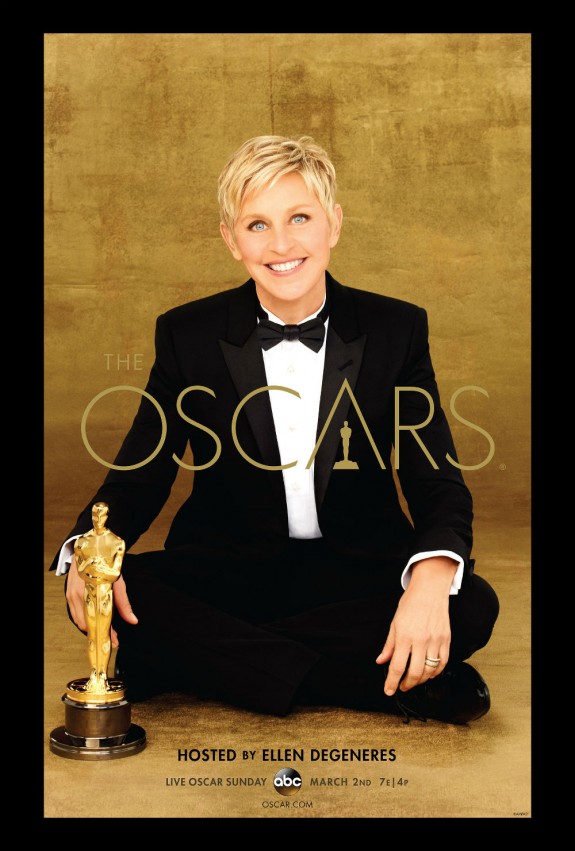 What can you say about the
Academy Awards Show this year?
It was nice. Ellen was nice. Except for the semi-snarky bit pretending that Lisa Minnelli (in the flesh) was actually the best female impersonator ever. Lisa did not look amused.
The dresses were tasteful, mostly pastel or bright, and that was . . . nice. Although I do feel the need to point out that if you're going to wear a very, very plunging neckline, you should have something to show off. Unless you're Jared Leto. I also give a pass to Lupita Nyong'o because she is so lovely and wore such a pretty shade of blue.
I liked the pizza party ploy, and Ms. DeGeneres had fun getting all those 1 per centers to cough up a few bucks. Especially Harvey Weinstein, who complained later that he put in $200 and that Ellen pocketed the money. We suspect he can afford it. Ya think? Meanwhile, the bewildered delivery boy, who thought he was going to be bringing the pies backstage, was reported to have received a $1000 "tip" for his impromptu onscreen appearance.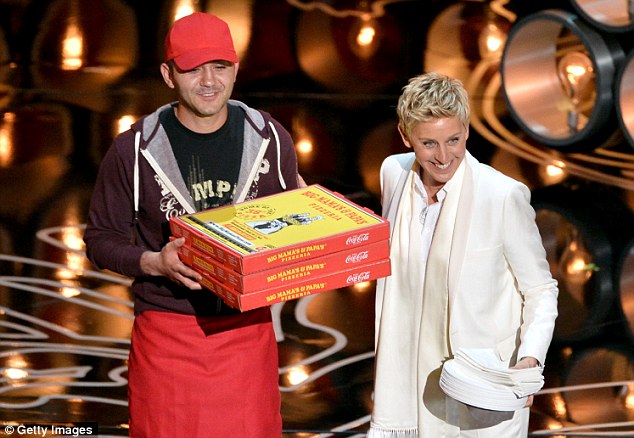 Actually, most of the stars who partook of the pie got it for free, because they are rich and famous (Does this make sense to you?) but that was nothing compared to the goodie bags they got this year, which were worth a mere $85,000. Really. Can you imagine?
Passing out the pizza was a way to connect us mere mortals to the mega stars. They eat slices just like us! Well, maybe not JUST like us, but let's nibble, not quibble. And did you notice that some of these usually diet-conscious celebs like Meryl Streep took big healthy bites.
TWITTER WAS ATWITTER!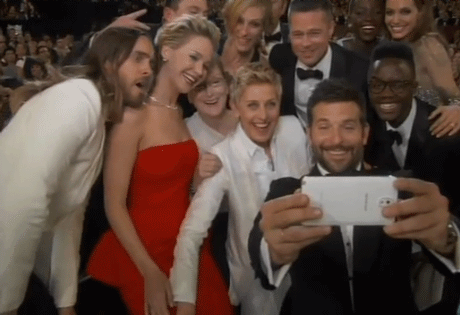 Loved the selfie. And so, it seems, did everybody else. It was retweeted 2.7 million times and received 1.4 million favorites. This breaks the site's previous record, which was set by President Barack Obama after his re-election. I would wonder whether people didn't have anything better to do, but they were, you see, watching the Oscars, and if you don't need to get another beer, or get rid of what you've just drunk, during all those acceptance speeches, then yes, retweeting makes perfect sense.
We're also quite impressed with Mathew McConaughey's performance in The Dallas Buyer's Club, but, as one critic pointed out, we wish that he wasn't quite so impressed with it. Talk about acceptance speeches. Nah, let's not. Except for. . .
Cate Blanchett, accepting the Oscar as Best Actress for her role in Blue Jasmine, who credited Woody Allen in spite of the current controversy surrounding him. Personally, I find the whole Woody/Soon Li thing pretty creepy, but creepiosity is not a crime the last time I looked, and nothing has been proven about the allegations regarding his daughter, Dylan. Or is she his stepdaughter? I get so confused about who belongs to whom in that group. And Ronan Farrow does look a whole lot like Old Blue Eyes, doesn't he, but that's another story. Or not.
I'm annoyed that Amercan Hustle got stiffed! So not fair. Go to see it anyway. Go to see it out of spite. Whatever. Go to see it.
Then there's Gravity. I thought that the special effects were incredible. And I love the title. On the other hand, special effects and an arresting title do not a great movie make, so I was okay with it winning a lot of technical awards, and one for music, but not sure about Best Director. At least it didn't gest Best Picture.
HAVE YOU SEEN 12 YEARS A SLAVE?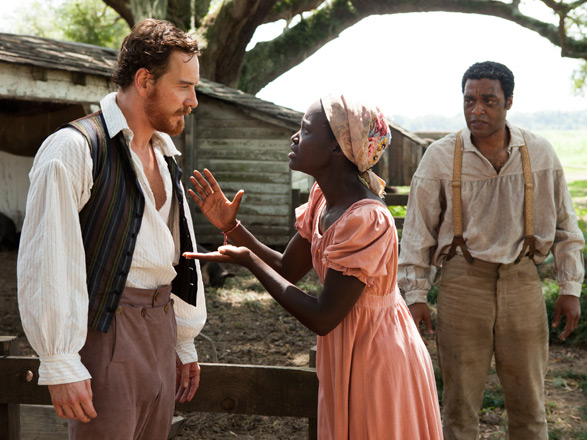 Even though I haven't (I will! I will!) I'm glad 12 Years A Slave won the big prize and that a black director finally took home an award even though it wasn't for Best Director. How does that work? Anyway, I hear that this category was a close call for 12 Years because many of the Academy voters hadn't seen it yet either. Hard to watch some of it, I'm told.
Easy on the eyes, on the other hand, were some of the most beautiful women in the world including, but not limited to, Angelina Jolie (Is that woman even real?), Kate Hudson (in something a bit plungy but wow), Charlize Theron (talk about a big, beautiful doll) and Jennifer Lawrence, who can trip any time she wants to: on her it looks good.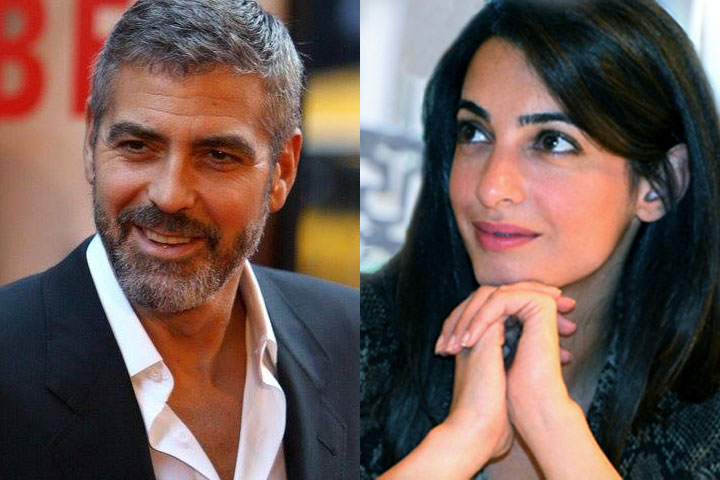 BUT WHERE WAS OUR
FAVORITE HEARTTHROB?
George (Be Still My Heart) Clooney was nowhere to be seen. Allegedly he's living it up in London, with his latest lady love, the lovely lawyer Amal Alamuddin. Harrumph. We missed him. But that's part of his charm, isn't it. Remember how he disappeared in Gravity, leaving us wanting more. Besides, how easy on the eyes is his new flame. And what a great-looking couple they make, perfect for the paparazzi.
That's nice, too. For them. The rest of us will have to settle for selfies of ourselves in our pjs with the local pizza delivery guy, who, BTW, will NOT be getting a $1000 tip. . .