Petites Are NOT Skinny Bitches!
May 30
Ladies of the View, listen up. You said that stores are catering more and more to small women, AKA "skinny bitches," and are phasing out bigger sizes.
Oh yeah? Well, first of all, smaller women, AKA petites, are not all "skinny bitches!" Maybe you have us confused with the size 0's in Juicy Couture: but that's not what being small means to most of us. Petite sizes go up to 14, so we're not necessarily thin, just, you know, not very tall. Okay, short. Or my personal favorite, Vertically Challenged.
Whatever you call us, we're mad as hell at department stores
After I heard on the View that small sizes were in, I went directly to Saks, the only rational thing for a girl to do. But not so fast, Shorty! The space on the 9th floor that used to be the Petite Department is now Plus Sizes. I realize that larger ladies deserve their own place to shop, but isn't there room for us petites? A little room? We don't take up very much space.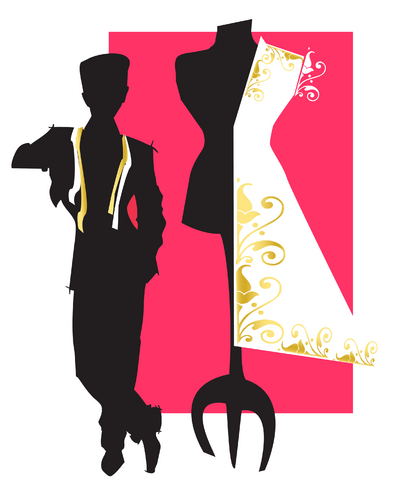 And yet, Petite Departments all over are closing faster than you can bing Behar or Walters, "bing" being the new google, in case anyone wants to know.
And even if you're not petite yourself, surely you know and love someone who is tiny. Someone who — before the advent of Petite Departments — had a very deep and meaningful relationship with her tailor, when she much preferred that cute guy in Human Resources.
The thing about tailors is . . .
1) None of the ones I've ever used look remotely like the guy in the illustration.
2) No matter how good they are, some items of clothing never fit exactly right. However much money and time you spend having them altered, it's not the same as getting the right size in the first place. The pockets are in the wrong place. The lines aren't proportional. And the overall look is just too damn big.
To add injury to insult, or is it the other way around, the Petite Department at Sakes vanished, seemingly overnight — Without A Trace. Where is Anthony La Paglia when we need him? Oh, let's face it, we always need him. Maybe I was too busy blogging to do much shopping, but I never heard that they were eliminating Petites. Couldn't they at least have called me or sent a card of condolence? Yes, there are a few meager selections for petites on other floors, but nowhere the Vertically Challenged can truly call home.
The nerve of these people! Don't they know that good things come in small packages?
Haven't they heard about "short and sweet?"

(I'm making this post shorter than usual to prove that point, since I myself, although lacking in height, am not always all that saccharine. . .)
They did this once before at Saks! There was a huge public outcry at the time (that is, the number was huge, the women protesting weren't), and guess what, they brought the department back. Now we have to endure this heartbreak again. Isn't it enough that we can't reach anything in the top cabinet, that clerks look over our heads at ticket counters, and our feet dangle a few inches above the floor of the new crosstown busses?
The Petite Department at Lord & Taylor is my only hope these days, but girls, you know you can't depend on a single store for all your shopping needs. Macy's may still have a section, but Macy's is too big. I get confused. And Bloomingdales Petites are scattered all around, so I get tired and cranky. If I am forced to shop in the regular departments, I have to get a size 2 or 4. And get it altered. Does that make me a skinny bitch? Or just a —, oh never mind.
Help! Does anyone out there know good places for petites? On-line maybe?
It is also my 'View" that: One Size Does NOT Fit All!
So I'd love to hear from anyone who has trouble finding clothes that fit.


ADD YOUR COMMENT BELOW: IT'S EASY, I PROMISE:
•NAME (FIRST NAME OKAY)
•E-MAIL (WON'T APPEAR)
•COMMENT (AS SHORT AS YOU WANT)

YOU WON'T SEE YOUR COMMENT INSTANTLY, BUT IT WILL BE POSTED ASAP.