My Shoe Story: Why Size Matters
May 13
I almost didn't post anything today, because I've been too busy shopping on line for shoes. Why would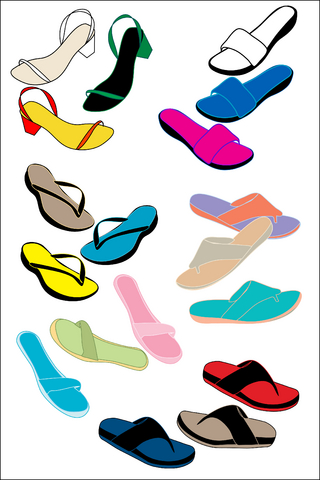 someone with more shoes than Imelda Marcos need more? If you're a woman, I don't have to explain. But why would someone in Manhattan, the home of Shoe Mania, literally, use the Internet for shoes? Two words (and a fraction): 6½ Narrow.
Yes, there are size 6½ shoes out there, and yes, Virginia, there are narrow widths (is that an oxymoron?), but rarely, if ever, do they occur in the same shoe. Almost never in styles that you'd actually want to wear. A recent visit to E-Bay (I was truly desperate) produced hundreds of shoes, but exactly one in 6½N. A lizard-like number in a pink, green, and yellow pattern. Just what I needed!
What I need are the shoes that every other woman in New York seems to have: easygoing black slides, sandals and sling backs, colorful flats. What I have is a closetful of not-quite-right or downright awful shoes purchased in desperation. Plus a handful (footful?) of real winners, worn to a pulp, which will never be thrown out in my lifetime. Ironic, isn't it, that someone who has so much trouble finding shoes has so many. But life is nothing if not ironic, don't you think . . .
Let your computer do the walking
I am staring at a pair of newly purchased, really bad shoes right now. They're white low-heeled sandals and are sort of comfortable. (Comfort in women's shoes is a relative term.) But they're pretty ugly (another oxymoron?), and they cost $200. I ordered them, in the vain, and I do mean vain, hope that they would work.
These shoes are the result of an exhaustive search on line, after an exhausting search on the streets of New York, walking in less than perfect shoes. I already know —from dismissive looks of shoe salesmen everywhere who hear my size and know they're not going to make a sale —all the places NOT to look for shoes these days. Long ago, in a galaxy far away, I could find my size at several stores. One was Pappagallo, where Jackie O once admired the shoes I was trying on. (Be still my heart!) But fewer and fewer places—or brands—bother with narrows any more. Even if I felt like splurging and wanted something really stylish (and could be carried around on a platform like a Chinese princess) Jimmy Choo or Manolo Blahnik would only break my heart. They never even heard of 6½ narrows.
Don't tell me about stores specializing in small sizes like Giordano's. They give me a warm welcome when I come in, but when they hear my size, the atmosphere turns chilly. They used to have a few narrows, but the last time I looked, there was absolutely nothing. These days, I walk on by.
On line, I pretty quickly narrowed (HA!) my search to one brand, Stuart Weitzman. This wonderful man actually makes shoes in my size—and does variations of classic styles every year, so that the new version of the stretchy sandals I got last season will almost certainly fit. So, for a total of three hours, I visited Stuart Weitzman's home page, plus sites like Arthur Beren, Neiman Marcus, Nordstrom, Saks, Footnotes, Zappos, Shoedini, and Shopzilla. The result was placing an order for black sandals, nothing spectacular but exactly what I needed, that were on sale (Oh joy!) and were therefore "only" $150. I looked desperately for something else because the more you bought, the more you saved: 30% off the first pair, 40% on the second, 50% on the third, and maybe they paid you for the fourth, I don't remember anymore. But I couldn't find anything else in my size that I remotely liked, so I gave up.
Oh well, the one pair. Not bad.
Okay. Everyone receiving a package of shoes from Stuart Weitzman, step forward. Not so fast, Fortunato! Check your e-mail, girl, where you'll find a message from a nice man in Fort Lauderdale saying that they don't have your size after all, thank you for your order, and have a nice life. Talk about de agony of de feet. (Sorry about that.)
Not to be denied, and really obsessed at this point, I went back on line, this time determined to be more thorough and a bit more open-minded. After another three hours or so, exhausting all the sources and myself, I came up with four shoes to order: black slides from SW via Shoedini (they looked good), black sandals from Munro via Nordstrom (highly questionable but on sale), black mules from Donald Pliner via Footnotes (could work) and the infamous white sandals, from SW via Zappos. Even Stuart doesn't get it right every time.
Of the four pairs I ordered, two were on sale, the other two around $200 each, so the total came to over $600. But I wasn't worried about the expense because I knew they all won't work, and at best I'd end up with a pair or two and some shipping charges.
I was far too optimistic.
I was informed by Footnotes that whoops, they really only have a 7½ N on the mules. That left two pairs, and I never had been at all confident that a) I'll actually receive the ones that looked like a good bet, or that b) the other ones would work. I didn't. And they didn't.
But I'm definitely returning the sandals. A girl has to have some pride! Besides, I have other things to worry about . . . like buying a bathing suit. Which you can read all about in
With A Throng In My Heart. Then again, summer always flies by, dosen't it? And soon it will be time to be thinking about other things besides sandals . . . Like boots.
FYI: As I was writing this, I got three e-mails from Zappos, info@6, and Cole Haan,
none of which will do me the slightest bit of good.
Next life, I'm coming back as an 8W (the average shoe size for American women)!
But meanwhile, does anyone have any suggestions?
Or stories? I do so love a good shoe story.