Gotham Girl Meets GOSSIP GIRL
Apr 10
Working by day as a mild-mannered blogger for I Can't Believe I'm Not Bitter, Pat Fortunato has been known to put on a trench-coat and dark glasses and turn into Gotham Girl, gathering info for pieces like this, which appeared in part in Woman Around Town: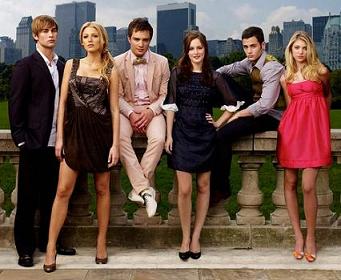 Neither rain, nor sleet nor gloom of public transportation can keep Gotham Girl from her appointed rounds — at the Silvercup Studios in Long Island City, where she visited the set of Gossip Girl. And who wouldn't brave the weather not to mention the F train, when behind the door marked Stage X (How appropriate is that?) you'll find the show that is, admit it, your favorite guilty pleasure. Right up there with mac 'n cheese and Mallomars, anyway.
But how did "A Girl Like I," long, long, out of high school, not from the upper crust of the Upper East Side, not, in fact, the slightest bit like anyone on this hot series —except that I, too, drink martinis — become addicted to this show?
I have an excuse, sort of. All junkies do . . .
My brother Ron is the director of photography and I watch everything he does. (I relate because I'm related?) He does a lot of good stuff: Before the Devil Knows You're Dead was his last feature. But this excuse will only get me so far. It's why I had to watch the first episode, to check out the photography (outstanding, as usual), and to have something nice to say at the next family dinner.
But let's face it, this is not a valid reason for watching each and every show, and for being a little too interested in the goings-on of characters like Chuck and Chace. No wait! That's Chuck and Nate — the actors playing the characters are Ed Westwick and Chace Crawford. In real life (it's so hard to keep the two separate), Ed and Chace live together. That is, they're roommates, just two wild and crazy guys sharing a pad in the Big Apple. On the show, they're just schoolmates. I also follow the adventures of Serena (Blake Lively) and Dan (Penn Badgley), who are, in actuality, an item.
Could you make up these names: Westwick, Crawford, Badgley and Lively?
Could they be any more Waspy?
Could the series be any more unreal?
As a former Sex and the City addict (I'm in rehab), I'm well aware that reality has absolutely nothing to do with it. The women on that show had more men in one season than you can find in the entire state of Idaho, and most of the guys were pretty hot. And talk about martinis (or cosmos): there is no way in hell that those women could drink that much and stay slim, employed, and out of AA. Let's not even get into the clothes thing. Even if they could afford the multi thousand-dollar designer outfits, where in the world would they store all that stuff? In a New York apartment? I think not. (Check out I've Lost It: AKA Law & Disorder.)
Anyway, Gossip Girl isn't much more unreal than that. Just a bunch of fabulous-looking teenagers with better wardrobes than Anyone On Earth, who swill martinis at the Palace and drive in limos, and some of whose parents are in love with the parents of other characters. Yes, I meant to say that. Did you miss that story line? Better catch up.
And I haven't even mentioned the adorable brother who's gay. And who complained that his bedroom is under his mother's, and she should remember that the next time she's entertaining the father of his sister's boyfriend.
The beautiful mother (also of Serena), Lillian van der Woodsen, is played by Kelly Rutherford, and the father of the daughter's boyfriend, Rufus Humphrey, is played by Mathew Settle, who's really cute and looks about three years older than his son. Rufus? Did that name come back in style while I was busy watching SITC and L&O? Jenny, Rufus's daughter and the world's first 15-year-old-high-school-dropout-overnight-success- fashion designer, is played by Taylor Momsen. And of course, there's the queen bee who gives all the other girls hives, Blair Waldorf. How's that for a name! She's in love, more or less, with Chuck, who's in love with his wardrobe (he's single-handedly bringing back the bow tie!) and goes back and forth about his feelings for Blair. The actress playing her, who is genetically perfect, is Leighton Meester.
Have these people never heard the word "ethnic?"
Well, the striking young woman played by Jessica Szohr (now, there's an ethnic name, although her character is called Vanessa Abrams) is having a thing with Chuck (who isn't?) —in her case, both on and off the show. H'mm.The cute gay brother is played by Connor Paolo, a kind of hybrid name, but of course, on the show he's a van der Woodsen. And my favorite is Dorota, the subservient servant, played by Zuzanna Szadkowski.
So, anyway, what was the studio like? An alternate universe, where the outside world hardly exists (the crew asks you if it's still raining), very big, and very busy. Lots of people working, lots of people standing around waiting to work. Like the doctors and technicians before a surgery: when the moment comes, they spring into action.
The sets are surprising, one in particular: the loft in Brooklyn, which looks so spacious on the show, is actually pretty small, and looks like, well, a loft in Brooklyn. Funky. Not that big. Don't want to rain on your parade, but the skylines are actually painted pieces of scenery. Well, you already knew about things like that. I mean, these actors are not really teenagers, good guys do not always win, and Batman doesn't really exist. (We have to wonder what ever happened to Robin? But that's another story.)
As a visitor, you try to stay out of everyone's way, while at the same time meeting everyone you can. As Ron's sister, you get to see the cast up close and sort of personal: They all were very welcoming, and looked even better in person. Sigh. If you're looking for a place to make you feel young and lovely, this isn't it. Serena was especially nice. She said she wondered who those cool people (my friend and I) who were watching the takes. Okay, so she probably meant my friend, who used to own a store called A Different Drummer, which gives you some idea of how he dresses, but Gotham Girl will take a compliment anywhere she can find one.
But now, Gotham Girl has yet another confession to make: yes, she loves all those gorgeous young things (who wouldn't), but she was most thrilled to meet Cyrus Rose, AKA actor Wallace Shawn. On Gossip Girl, he's married to Eleanor Waldorf, actress Marget Colin. But fans of Sex and the City like Gotham Girl will recognize him as the guy who Candice Bergen described as a Hobbit (In a good way!) and ended up dating him. Wallace is famous for writing and starring in My Dinner With Andre (If you haven't seen it, you must) and for appearing in many popular movies including The Princess Bride, and lots of TV shows like Law & Order and Murphy Brown (hmm, Candice again Just saying.). Okay, Okay, he's not a teen idol. But neither is Gotham Girl. Get over it.
The word is that the cast and crew get along very well together, and as much as denying this would be a juicy story, they do. There's a great vibe on the set, and Gotham Girl really enjoyed her visit. Many thanks to her talented and generous brother who "makes us all look good.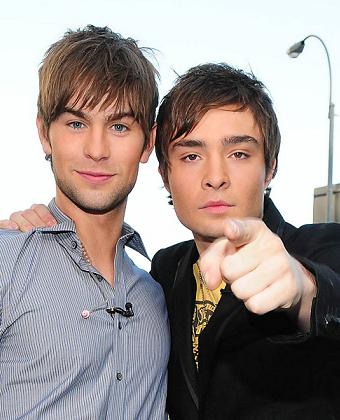 "
Only regret: Chuck and Nate were not in any of the scenes that day. Gotham Girl has met them before, but oh, too briefly. Besides, once is never enough.
XOXO,
You know you love me,
(That means you!)
Gotham Girl
PS: I saw Nate (Chuck was not there are the time) at another shoot when they were doing the prom scene, which will air later this month. What can I say? Nate is the cutest thing who ever lived. Nice, even.
I gave him my card and everything. But do we really think he will call??? I fear not. But maybe he'll come to the site to check out my blog! One lives in hope. . . .