Don't Blow A Fuse!
Jan 24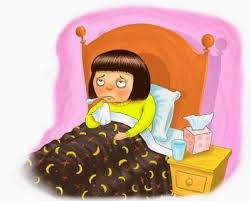 "I'm in bed with a cold" is not my favorite sentence (you know you want that final noun to be something more interesting). And it is a sentence: you are condemned to miss all the fun and wallow in your own misery.
Oh well, I had some nice soup in the freezer.
Just nuke it and Voila! instant comfort, right?
Not exactly.
Because, having realized that the apartment was in a worse state than I was, I had cleaned up the kitchen and turned on the dishwasher. Then started to warm up the soup. Uh-oh. Forgot the No Nuking While Dish Washing Rule. And paid the price. The lights went out, the dishwasher and the microwave stopped, and, worst of all, the light in the refrigerator went off.
But okay, all I had to do was switch the circuit breaker. No problem, right?
Wrong. Problem.
The fuse box (Do we still call them that even though they are now circuit breakers?), being a particularly unsightly site, has long been covered by an oil painting from Sicily which I have never attempted to get off the wall.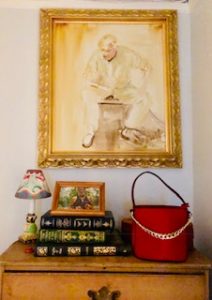 Worse, over the years I've piled up a bunch of stuff on the dresser covering the Whatever You Call The Damn Thing: a small lamp (not connected), leather bound volumes I'll never read, a purse too pretty not to show off. And, atop the books, my favorite photo of the late great Lou, happy and smiling, the handiest handyman ever, who would have taken care of this. Sigh. Wanna talk about irony.
So I take off all the stuff, and, carefully, reach up and lift off the painting, which is quite heavy and awkward to maneuver, somehow managing to avoid major breakage to anything—especially to my very own person—and switch the breaker.
Eureka! The lights go on.
However.
The refrigerator light was still off, and I suspected the fridge itself wasn't working. Duh. This was verified by a frantic call to my friend Alex, who asked the obvious (and musical) question: Do you hear it humming? (Assuming, groan, that it didn't know the words.) No, I didn't hear anything, and this, people, was not good news.
I frantically tried to find the manual, thereby discovering what a mess the Manual/Warranty file (and the cabinet itself) is, leaving a pile of booklets scattered all over the floor of the den.
Of course the manual wasn't there. Why would it be? When I need it? I could hear my food starting to thaw.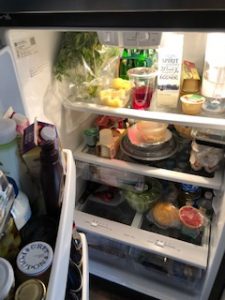 So I went online and by some miracle found the manual. Hooray! But alas, there was no mention of what to do if the damn thing turns off in a power outage.
So now I had to call the building. It was now after 9PM, the night before Christmas Eve, and I was surely doomed to wait until morning to get anything fixed, with a refrigerator full of soggy food.
Why do these things happen when your fridge is full, as opposed to those times when it holds little more than some vodka and olives?
Don't answer that.
Anyway, a true Christmas Miracle occurred, and one of the building staff came right up, sussed out the problem (one of the other circuit breakers was off), and I had a fully running fridge, hot soup, and, eventually, clean dishes even.
Still had the cold. Which turned out to be acute sinusitis (as least it was cute) and lasted a while. Missed Christmas and New Year's Eve, some lunch and dinner dates, and seeing the outside world.
This wasn't my best holiday season, although I got to watch lots of movies (Was there life before Netflix?) and I did recover after the First. The question is, did I fulfill my own prophecy when I said that I Wasn't Ready for Christmas? Click here for that post.
Do you believe that the Universe takes you seriously—and literally—and has no sense of humor?
I do. And maybe that's what happened. I wasn't "ready" for Christmas, so I didn't get it.

(Spoiler alert: a post about this is coming soon to a blog near you.)

But anyway it's a new year, things are looking up, and with any luck at all this one will be happy and healthy, with no (or very few) annoying colds or blown fuses to mess things up. And life (not to mention the refrigerator) will go humming merrily along.
I'll get back to you on that next Christmas.