Does She or Doesn't She?
Apr 02
Attention Bitter Blogees:
These are . . . interesting times.
This post from a guest blogger surely reflects the experiences of many.
A few weeks of self isolation are beginning to bring about unintended consequences. This morning in my junk mailbox there was an offer from Neiman Marcus literally bringing the realities home. NM asked if I would like to avail myself of the services of a fashion stylist.
As I've been waltzing around my apartment alternating between ancient bathrobes and sweats no longer suitable to be worn in polite company, I wondered how they found out about the state of my frumpiness. Who ratted on me? Was it Alexa or maybe Google? Perhaps Zoom no longer wanted to display my current state to others. However they got the word, Neiman Marcus wanted to improve my appearance.
No way NM! The luxury of not giving a damn has triumphed over wanting to be a fashionista.
Added to closets full of unworn clothes are unnecessary shoes, makeup, trinkets, scarves, and what seems to constitute a good portion of the recent inventory of TJ Maxx. It is strangely empowering not to miss any of them.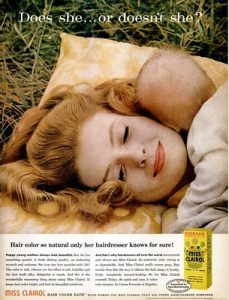 There used to be a hair color commercial that asked, "Does she or doesn't she?" Well I can now honestly answer and tell them that  she did, but she no longer does. Hair salons are closed and Amazon is sold out of do-it-yourself hair color products.
Women, and some men, are starting to reveal the effects of having what erupts from their follicles be a different color from the rest of their tresses. In other words, many of us will soon be sporting the kind of two-toned hair we recently sneered at when we saw it on trendy kids.
"Discovering your roots" no longer refers to getting results from Ancestry.com.
Another realization is how much time and money we used to spend on all of the above. And how with intelligent planning how little it takes to get by. The omnipresent CORVID-19 life-threatening dangers, the self isolation, the social distancing, the disruptions to ordinary life, all serve as reminders to reset our priorities.
—Audrey Lipton
P.S. Hi, Pat. Just got another email from Saks. The one-shoulder midi dress  would be perfect to wear around our apartments if matched with corresponding color latex gloves. Perhaps elbow length?
Does anything here look as though it might enhance your current lifestyle? Can't go wrong having a perfect blazer to wear over a bathrobe.
And everything is on sale. Can't imagine why. Maybe Saks just wants us to look our best when we transition to a spring wardrobe. Doing it with a change of clothes might be effective. But since we do not go outside we have no clue what season it is!
Well, Audrey, I can relate to every word you write. And yet. I long for the day when I can get my hair and nails done—and go out to dinner! Yes, Quarantinis are fine, but a martini handed to me by a waiter, served on a white table cloth with a flower and a full setting of silverware, well that will be my priority when this nightmare is finally over. Call me old fashioned, hell, call me anything you want, but I'd like my old life style back. BTW: Is it true that blondes have more fun?

—Pat (I Can't Believe I'm Not Bitter) Fortunato