Decorating Disaster: It's Curtains For Me!
May 14
I saw it on a Dr. Phil show, so it must be true. There's a syndrome, I don't remember the name, whereby something in the future seems like a good idea, but when it gets closer, not so much. The show was about marriage and the men who avoid it, but my complex is about curtains. (Where is Jill Zarin when you need her?) Or, more broadly, it's about decorating.
When we moved into this apartment, we planned a "Before" and "After" party. We threw the first one before the furniture had arrived (more room for dancing and carrying on), with pictures pinned on the walls showing what would end up where (a Tiffany lamp here, an Oriental rug there, some bookcases by the fireplace).
We even had a contest for the best decorating tip, with a bottle of champagne as the prize. The winner was: a lap pool in the hallway between the bedrooms. Great idea, but it never happened.
And as you may have guessed, neither did the "After" party . . .
We got the basics, like a table and chairs, a bed, some reading lamps, then went around to antique shows for many years picking up this and that. We also foraged in my husband's warehouse, where we found some cool things: Depression glassware (how appropriate is that right now!), the hood ornament from a vintage Buick and a pair of end tables from his mother with marble on top. The tables, not his mother, may she rest in peace. Anyone from that side of the family, now hear this: I am NOT giving up those tables.
Anyway. The apartment really looks kinda nice, at least to us. But no one would think that a decorator had come within miles of it. The worst thing —maybe the only really bad thing — are the curtains.
Let's face it, I have no talent for curtains.
Remember when it was the style to have bedroom curtains made from designer sheets? No? Well, it was a good concept. You picked a nice pattern for the bed, bought a bunch of extra flat sheets and turned them over to someone who knew what they were doing, who made you curtains. And then everything would go together and you'd live happily ever after with lots of pleasant dreams. The thing is, no one counted on me (They were too busy counting threads, I suppose.) I picked a lovely set of coordinating sheets, beautiful floral prints in pastel colors from the designer Vittadini, as I recall. Pretty! Not cheap! So far, so good.
But when the curtains were made and hung on the windows, they looked monumentally awful. I mean really, really bad. Not just "off," but off-the-charts terrible. The gathering of the fabric had compressed the pattern and it had become too dense and flowery for words. Honestly. Even I was speechless. I tried to explain how horrible they were to a friend, and she suggested that I just had to "get used to them." I had always had plain, cream or beige colored, curtains, she explained, so these might just look too different. Oh, they were different, all right. When I invited her over, she left the room immediately and made me promise that I would never, ever pick out a curtain fabric again, not on my own.
The thing is, I never think that I am on my own. I think I'm getting help. The guys at the fabric store seem so nice and so knowledgeable. The man who made the bed sheet curtains didn't flinch when I showed him the material. Don't these people know who they're dealing with? Can't they stop me before I drape again?
I will, you know.
Ages ago, they started doing point work on my building. If you don't live in an apartment building, or you're not seriously into construction, or you're not a guy, you have no idea what I'm talking about. Well, they have crews on scaffolding that park outside your window and make the most deafening sounds you have ever heard. They are fixing the bricks and mortar, more or less. And they come back every morning around 8, for days or weeks until they don't anymore, and you think they're finished. They're not. They're never finished. They come back and make even more noise, because, we were told at the shareholder meeting, some inspector made them do it over. And over. Ad nauseum. Maybe this is hopelessly naïve of me, but wouldn't it be possible for them to get it right the first time?

Don't Put Them Up — Put It Off. Forever, if possible
The only good thing about this, apart from the fact that it needs to be done so that stuff won't fall off the building and hit someone on the head, was that it postponed the job of getting new curtains for the bedroom. Besides the noise, this whole procedure kicks up a lot a dust, so you don't want to be putting up new curtains until it's done. It's done. They said it couldn't be done, but it's done. Gulp! What do I do now?
I know what you're thinking: the curtains we have now must be pretty horrendous for me to even think about replacing them, given my history and all. Not so. They're just very old, and very boring. Beige, semi-sheer, yawn. (After the flower fiasco, what did you expect?) And besides, I was thinking — just thinking, you understand— about getting some nice velvet ones (dark red even!) with that backing that blocks light (then I could also get rid of the exceeding ugly shades that currently serve this purpose) and noise (not even the double-paned windows shuts out Second Avenue, home of 24-hour sirens and city buses that screech to a halt all day and night).
But changing the curtains (GASP! ) means making decorating decisions. It means going to Zarin Fabrics downtown and picking out a fabric. So many fabrics! Then choosing a style. So many styles! Do I even know what I like? Then a curtain rod. You think that's easy? Haven't I already told you that Nothing Is Easy? Tie-backs? Tassels? Can you feel me hyperventilating in here?
Deep breath. Look on the bright side.
I have a nice apartment. I can take one of those noisy buses right down Second Avenue to Zarin Fabrics. Maybe I could bribe or cajole a friend into going with me. (This is a thankless job.)
Hey! Maybe Jill Zarin will be there. She's fearless: she could help me decide what to do. Maybe the other Housewives of New York City will show up for a charity cocktail party or something (oh god, what will I wear?) and we'll all have a merry old time. Maybe I'll have a few drinks and I won't care what curtains I order. And when they arrive, they wouldn't be . . . terrible. They won't scare the horses, if horses ever happen stop by for a visit here on the fourteenth floor. They'll be . . . okay. Nice even, or is that just way too much to hope for?
Maybe I should just get it over with and call Dr. Phil. I have his number here someplace.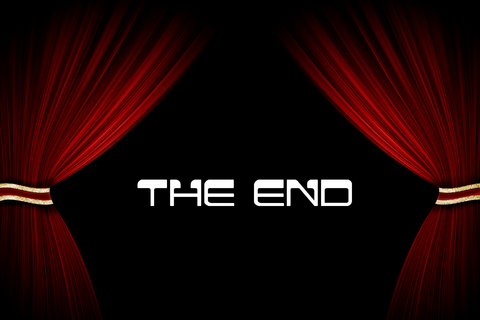 Or is it just THE BEGINNING . . .

Can someone out there please give me some advice?
Quick! This could be . . .curtains for me.