Cheerless
Nov 13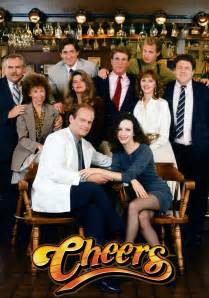 Cheers anyone???
Not so fast.
My therapist, who is usually a font of wisdom, says that if I want to meet people I need to get out there.
I had to straighten her out.
There is no "there there," as anyone who's been "out there" will be quick to tell you.
Leave me explain.
I am a "regular," although a little irregular I'd like to think, at Molly's, the friendly neighborhood tavern around the corner. I know the waitresses, all of them, and the bartenders, of course. They were nice to me after Lou's death because they're good people, and, as you may be aware, the Irish know from grief.
So I've found "Cheers," right?
No way.
Except for the staff, not only doesn't "everyone know your name," but nobody knows your name. And couldn't care less. They're all on their phones. Or with someone. Or eating. Or all of the above.
Look, I am capable of having a conversation with a stone, although that might land me in the nearest psychiatric ward, and when my favorite booth is taken and I am sitting at the bar, I often start talking to people. They almost always respond (maybe they'd like to be Cheered up too), but that's it. I never see them again, not even this one guy who was pleasantly friendly, gave me his card and suggested we have lunch or something. He called once, I was busy, he never called again. Okay, so I never called him back. But still.
Wait! I am not looking for the love of my life. Been there, done that. Just someone (male) to have dinner with or see a play or something. I have tons of female friends, and I love them dearly, but sometimes a girl wants to talk to a guy.  The dynamic is different.
Going Solo
Don't get me wrong, I go to Molly's alone. I love their french fries, burgers, and my own very special martini. (See Buddhism or Booze for the recipe.) And sometimes, I actually like being alone. I take deep breaths, I play with the olives, I look at Facebook, I make calls, I return texts, I start a small fire. . . Wot?
Well yes, the other night I allowed the cocktail napkin to get dangerously close to the candle, and voila! A little blaze was ignited. As I extinguished it, I gave a startled little exclamation. I hope it wasn't an expletive deleted, but it doesn't matter because nobody noticed. Me or the fire.
Really. No. Body. Noticed.
Which begs the question: what I could do with impunity in one of these booths? God knows.
Take off my underwear? I have that bra trick where you unhook it, wiggle out of one side and then appear to be pulling it out of your other sleeve. What if I started singing? This could clear the place out. Or announce that I was running for mayor. Of Dublin. They'd probably vote for me.
Okay, so you get the point. Everyone in this town is wrapped up in themselves, or their phones, which is really the same thing. Nobody knows your name because they are too busy buying Apps.
Oh well, last week I met my new friend, Clarence, for a burger and a "wee drink," as one of the waitresses likes to say, AKA martini for me and Molson's Ale for him.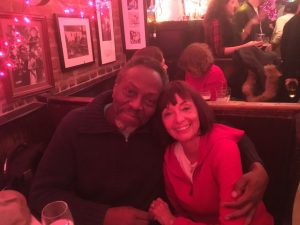 And when he returns from his world travels, I'm meeting my old friend Alex at Molly's for news of his trip and another man's point of view of Life Itself. We know each other's names, and the waitresses will know ours. The thing is, these meetings have to be planned. We have to make a date. In advance.
Wouldn't it be nice to just "Walk right in, sit right down, Daddy (Paddy?) let your mind roll on."
And have a drink.
If anyone knows a place like Cheers in my neighborhood, or in the Universe, please let me know. I'll buy you a martini.
With extra olives.
Cheers!